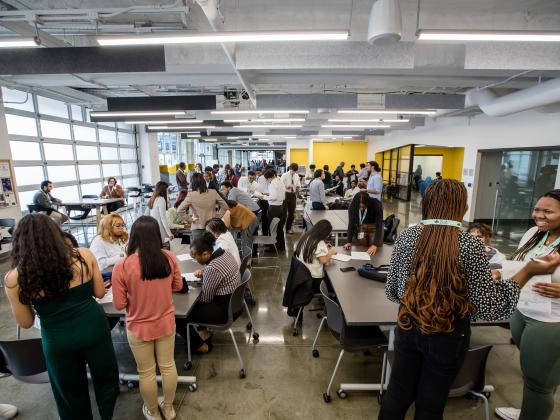 2023 KY-WV LSAMP Symposium
Supporting Underrepresented Undergraduate Populations in STEM
About the Symposium
The KY-WV LSAMP Symposium showcases the work of the KY-WV LSAMP Scholars and mentors.
We welcome:
Scholar Poster Sessions
Keynote Speakers
Presentations
Workshops
Networking
Academic Fair
Information Session
and More!
Registration Link
Please register by March 22, 2023 to help us order the correct amount of food.
Registration for this event is closed.
You can still register to attend virtually.
Register to Attend Virtually
The Symposium will be live-streamed on Saturday, April 1, 2023, from 8:30 a.m. est. to 12:00 p.m. est.  If you would like to join virtually, register here:
Hi there, 
You are invited to a Zoom meeting.  When: Apr 1, 2023 08:30 AM Eastern Time (US and Canada) 
Register in advance for this meeting: https://uky.zoom.us/meeting/register/tZMpdeuprDMiGdYz3mcol-NYbD2SVq2iiaE- 
After registering, you will receive a confirmation email containing information about joining the meeting.
Call for Undergraduate Research Posters
We are excited to show off all the hard work of the LSAMP Scholars.  We invite all scholars to present research posters.  
Registration to present a research poster has closed.
Parking & Transportation
Parking and/or arriving on campus
GIVE YOURSELF AT LEAST 30 ADDITIONAL MINUTES TO ARRIVE AND PARK ON CAMPUS.  UK is located in downtown Lexington and traffic is unpredictable. Because this is an active campus, we also strongly encourage you to carpool when able. Parking is first-come first-serve for all students, faculty, and campus guests.
Friday Night @ the UKFCU Esports Lounge:
We encourage you to park in the Cornerstone Garage.  You will be charged $2 per hour with a $16 per exit maximum.  After 7:00 p.m. Friday through 10:00 p.m Sunday, parking is free in the Cornerstone Garage. You will need to submit for reimbursement through your institution.
There is pay parking on the street around the Esports Lounge.
If you are using a ride-share service such as uber or lyft, have them drop you off UKFCU Esports Lounge 401 S. Limestone St. Lexington, KY 40506.
Saturday @ the Gatton Student Center:
If you are using a ride-share service such as uber or lyft, have them drop you off in the loop at the corner of Avenue of Champions and Lexington Avenue.
More info coming soon: Pre-purchasing a parking pass for the Gatton Student Center Lot. 
During the weekends, there are many free places to park within GSC. Map of places to park.
Recommendations for Places to Stay
Meals
Meals will be provided for:
Friday night:
Dinner
Saturday:
Breakfast
Lunch
Questions
Contact julie.bradley@uky.edu
Highlights of the 2023 Symposium